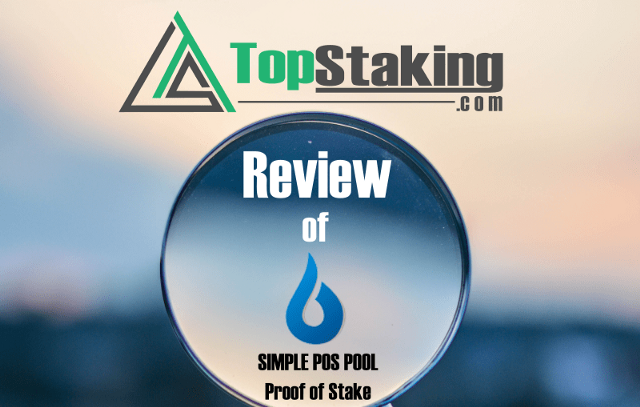 Simple POS Pool Review: Best User interface for Staking
Simple POS Pool offers a great experience and making staking your coins enjoyable.
Simple POS Pool offers an overall very nice service. The user interface is great and intuitive to use. Never once did have to work very hard to access a feature I was looking for. All the information I wanted was right in front of me or an easy click away.
Services offered
Staking
Simple POS Pool offers access to a good sized staking pool andmasternodes .Staking is as easy as depositing and waiting for your rewards to come in.Statistics are easy to find and useful.
Masternodes
Simple POS Pool does a great job at making masternodes accessible and easy to use. I didn't participate myself but its very easy to follow. Supported masternodes are broken into coins/slot. These "slots" greatly lower the barrier to entry for participating in a masternode.
Communication
All the communication on Simple POS Pool happens through Discord . So if your already on discord it will be a great experience. For those new to discord signing up and learning that platform as well might be a bit of a pain.
Security
2fa is supported and no reports of theft
Support
Done through Discord and judging from lack of complaints online there doesn't seem to be any issue with support.
My Test of Simple POS Pool
In testing SimplePOSPool.com I was able to sign up, secure my account with 2fa, login and deposit some bean cash very quickly and easily. The home screen is what sets Simple POS Pool apart. My deposit showed up on top as soon as it was confirmed. There I could see my BITB balance, USD price, daily trading performance.
Homepage displays all the supported staking coins and the pool balance which I think is neat
When depositing I found "staking info" button on every coin very helpful and I didn't have any trouble with finding deposit address button.
The Account overview on the bottom was cool as well though my meager balance is lame
Withdrawing
Withdraws are done every 24 hours. Also from what I can tell Withdrawals are free ! Which is great for small users like me
Referral
The referral system is multi-level and from my research quite good.
Staking Fee
3% which is competitive in the industry
Closing Comments
Great place to stake your coins and do masternodes. Easy to use and a great user experience